A story by Pradip Bhandari & Akriti Bhatia.
70:30 Racket.
Yes.
This racket worked post demonetization in conversion of large denomination currency. This is what we, at Jan ki Baat, probed into.
This is the racket which works as a money laundering tool for the big money holders. Many started changing the money for commission during demonetization.
All this started when Jan ki Baat reporter took an Uber pool. Coincidentally, this lady named Lucy, a co-pooler, was overheard by our reporter talking (with her relatives abroad) about the money to be transferred for some commission.
She, then talks with Lokesh, who is an overseas dealer of  converting old currency into bullion. She can be clearly heard talking about gold bars and confirming from Lokesh that the gold bars also have hallmark on them. Clearly, the lady was negotiating about the black money to make into white.
After this, we decided to go into the depths of the matter and find out what was really going on. We then contacted Lucy. Our reporter, became a man named Rajesh, who wants to convert a huge sum of money. And the conversation between Lucy And Rajesh is startling and disturbing. How a chain of agents was working continuously even after demonetization, can clearly be heard in the exclusive sting done by Jan ki Baat.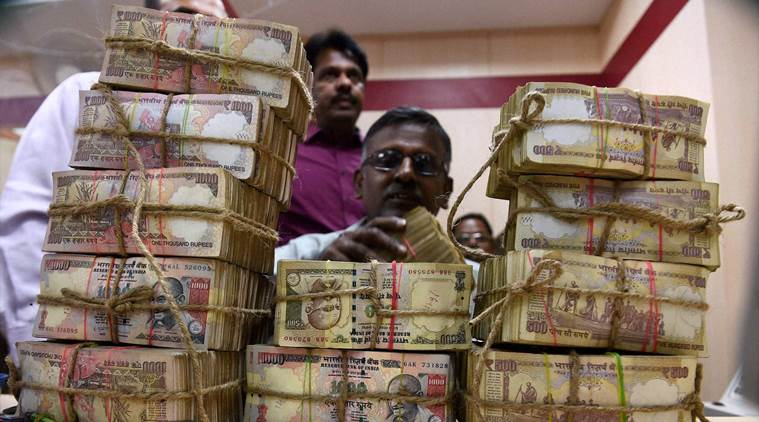 The conversation starts with Lucy talking in Punjabi with her relatives living overseas.
Here are the complete transcripts of the conversations
LUCY (talking to a relative) :  …that you don't declare it at home bani, where he is, he will receive it and then give that back to you. Are you getting it?  This is an absolute secret…a big thing. Don't you  understand? The boy has made me crazy, I am going here and there. Because everyone dumped us, turned their back(to convert the money). OH…or bring some gold…You say its urgent…Ok. I will talk to you later. Hang up.
Lucy, then makes a call to Lokesh and talks to him-
LUCY: Hi Lokesh… I'm sorry I was very busy in my banking problem( black money related) so I couldn't connect. So…wanted to ask you, what is the rate today? (Rate, at which the commission is to be given to the agent).
Yes…? Yes…?
Lokesh speaks.
LUCY: It has increased again?… Ok. we are talking about that thing( Money conversion). Wait. I'm making a whatsapp call to you, pick it up… Okay?
(WhatsApp call, because it can be in the en encrypted form, can't be read or heard by the third person).
Lucy then makes a Whatsapp call to Lokesh-
LUCY: Actually I had a call from overseas, so I just wanted to know…like…what…what we have spoken that day…if we do with that money, so what were you going you charge for it?…(stops for a while)…The bar only…the bar only which I..yes…and if you get the other one then??
She then hears Lokesh speaking for a while…
LUCY: Any negotiating in the other one? The 37 one (37% of the total money being converted) ? It is…but…yeah…but that is confirmed na? you are confirming the clarity of everything na what we are talking about?…But…not…not at all negotiable after 37?…(stops). But available na? Nahi…no I'm asking you, I don't want to check it in the market. So…its 37 you're saying? Okay?  And it… has this hallmark na? (Lucy makes sure that it has Hallmark, it is of pure quality, certified gold)
She stops to hear from Lokesh and continues…
LUCY: Okay…there's some problem, this is …my people from abroad its nothing my concern, so kindly…even if you are talking, please don't talk to VIJAY or VIJAY's son about it (insists) because they are going to be a very big problem otherwise…you understand na??  so I'm ringing you back in 10 to 15 minutes…till the time you'll also reach home. Bye.
Jan ki Baat investigated and found details about the lady and probed further. The conversation between Lucy and Jan ki Baat reporter, AS Rajesh –
LUCY:  Rajeshwar, how are you in contact with Lokesh? Are you into the same trade?? ( Lucy makes sure, that Rajesh is an authentic person)
RAJESH: No… no.. I..I  got to know about it through…uh..one of my friends. I have never met Lokesh personally. He just said that I should say his name…that I should mention him.
LUCY: Okay… Actually, I don't live here and I am not into it…but …I told Lokesh…There are some people who had asked me,if someone wants to get it done.. they are defendable people and…they can do it. So…they won't do it for low denomination…
RAJESH: No…no.. I have very high denomination..
LUCY: Okay…and…the thing is…they…when they were talking to me…because after…I…I am not very good in politics, to be honest to you. They said it's going to be 30% of and straight away you get the money…hands on right away, straight. So this is what they were talking to me sincerely. I have not got done anything for anyone.
RAJESH: Okay…Okay
LUCY:   but Lokesh… And I have to go into thousand transactions of gold…so that didn't come around. That's how I phoned him that there are people and he said, " lets …..( voice cracks). The people who will do. They are directly from the ministry… they have
RAJESH: Oh…people who will do…Sorry…??
LUCY: They have the contacts direct from some minister…okay..?
RAJESH: So…they get contacted directly from the minister, they will do that…?
LUCY: No…no…no…no…you… You will get the number of the person directly, you can talk to him. Don't utter my name (she makes sure, she doesn't get into the highlight with a clarification), just talk to them (Rajesh agreeing…), because I have nothing to take in this….
RAJESH: Yes….Yes…..Yes…
LUCY: If you can hold, let me finish. If you say negotiate, I am happy….more than happy. And if you are….ready with them…right?(disturbance occurred)..take your terms whatever the place you have to go say make everything according to you then only tell them…..(HEAVY DISTURBANCE)….whatever suits you…is it correct?
RAJESH: okay. Correct..Ma'am…. I didn't get the last line, it was not audible… can you please repeat it?
LUCY:  I said…. I am just putting…if you want..I can just put you through to them…I am nowhere…these people are there.. you can talk to them on your own…you can have your own…rules na….ki mereko ye chaiye….aise aise karna  hai…
RAJESH: haan…haan..bilkul…to isme…because the ED and the government is going very heavy so this is all secured na…..right?
LUCY: your voice is echoing……….I did not follow a thing what you said.
RAJESH:  No…no..no…I am saying….because….they are all in the government……so this all going…
LUCY: No…..no…no…no…no…no… They are not in the government( Clarifying what she said earlier), they are people who are doing this work….and I was doubting that they must have got this from some big source only…because these people are into this…this trade only….they are doing this for everyone…then they were flying off to BBS to get into the gold bar…you got it?
RAJESH: yes…okay…okay…
LUCY: That is how I know them and i do not know them directly..
RAJESH: okay…hmm..okay…
LUCY: I know them through a friend of mine who is a bit of….some secretary in some political party…
RAJESH: okay….okay…yes…
LUCY: but this is there…that once I talk to them… you give your direct number…make yourself very sure what you are doing…okay?
RAJESH: okay…but what should be the range in which…uh…I should…um..negotiate with them?
LUCY: Nahi…maine kaha kuch aur dekho agar kam karde…30% they have told me…as much as the person wants…
RAJESH: To ma'am aap unka contact number mujhe de dijiye…I will call them…
LUCY:  No tell me…how much I have to… Every tom, dick and harry I cannot give na… What sort of… just give me a small clue… what sort of money you want to get them…
RAJESH:  This is above twenty…
LUCY: Big…big 20?? ( Lucy talks big-hearted and big-time for Crore)
RAJESH: yes…big…big 20.
LUCY: okay… and 30% suits you? 
RAJESH:  25…is fine?
LUCY: No!!…they will not! That is what I'm trying to… (She almost loses her cool for a second)
RAJESH: okay fine…okay fine…my…my only concern is that my money should…that my money…that the money  should be  converted…I want that to happen… (agreeing with her)
LUCY: And how will you…you will have to take someone along with you and go na…how will you manage..
RAJESH: Yes…yes…for all that…. I will take someone along…
LUCY: Now…what Is your name…Rajesh…you said…
RAJESH: yes yes…yes..
LUCY: Let me talk to the person and then I will give your number…and then you can talk after that….
RAJESH: Yes…I am just waiting…I am waiting..
LUCY:  Pardon?
RAJESH: I am waiting.
LUCY:  And listen…please…please..they are very big people…if you are not sure…then don't pursue. 
RAJESH: Okay…done…done.
This sting by Jan ki Baat, exposed how the whole racket is operating the tasks and making it successful too. Demonetization is marked as one of the important parts of India's history.
It was the time which was seen as a killer for corruption. But these people managed to convert the money and it is clear that a whole chain of powerful people worked. We are chasing every link to this chain. And we will update you soon.