With militancy hinting at no backing off, the Indian security powers have additionally ventured up their operations in the valley. What's more, it is paying off, in only seven months of 2017, the Armed Forces have killed 104 psychological militants in Kashmir.
With this, it has turned out to be one of the greatest take-downs of militancy by the Indian armed force.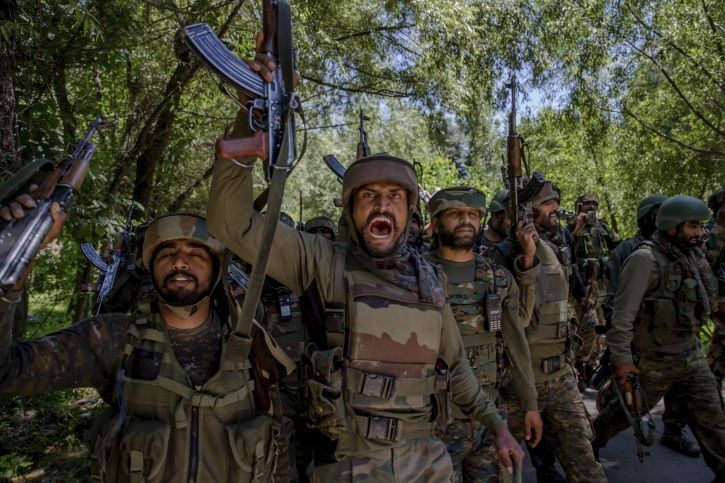 A year ago, 77 aggressors were executed amid this period, 51 each were slaughtered in 2015 and 2014, individually, 43 out of 2013, 37 out of 2012 and 61 out of 2011, as per the police information.
The security constrains likewise have arranged a hit-rundown of a few different psychological militants having a place with Lashkar-e-Taiba (LeT), Jaish-e-Mohammad and Hizbul Mujahideen.
The killed activists included Lashkar-e-Taiba (LeT) authority Bashir Lashkari who was included in the murdering of six policemen in south Kashmir and best Hizbul Mujahideen aggressor Sabzar Ahmad Bhat, he noted.
The security powers and police are following fear based oppressors as a major aspect of the operation "chase down" and on the premise of a "hit-list" of psychological oppressors, the official who declined to be distinguished told PTI.
In June, the Army had discharged a "hit-list" of 12 top activists in Jammu and Kashmir who it means to "follow".
The hit-list conveys the names and photos of the aggressors alongside the regions they are dynamic in and the strikes completed by them.
The hit-list incorporates LeT's supposed 'divisional administrator' Abu Dujana nom de plume Hafiz, its Kulgam 'area officer' Junaid Ahmad Matoo assumed name Kandroo, Anantnag 'region authority' Bashir Wani nom de plume Lashkar, Pulwama 'region leader' Showkat Tak nom de plume Huzaifa, Shopian "administrator" Wasim Ahmed false name Osama and Zeenat-ul-Islam nom de plume Alkama (LET), as indicated by the police.
Abu Hamas, Jaish-e-Mohammad's supposed 'divisional authority and a Pakistani national, is additionally in the hit-list.
While the powers have just dispensed with those included the murdering of seven cops and lynching of Dy SP, a huge chase is in progress for LeT leader Abu Ismail who has developed as the driving force of the fatal assault on Amarnath travelers.
Sabzar Bhat, who was a nearby partner of the killed publication kid Hizbul Mujahideen leader Burhan Wani, was slaughtered alongside a partner in an experience in Tral in South Kashmir on May 28.
A story by Supriyo Mukherjee.